Plays Rhythm Guitar, Trombone, Vocals, Bavarian Dancing. Took part in the Vietnam War in 1969/70, while there, entertained Australian and American troops in Saigon. After the war traveled overseas to Russia, Tokyo, London, and Germany. On returning to Australia I joined EMI records and became Queensland State Manager. In that position I was regularly in contact with international artists such as Paul McCartney, Michael Jackson, Ray Charles, Neil Diamond, Roberta Flack, Dr. Hook, and The Saints. I was personally involved with them when they were touring Queensland. In 1973 joined the Kalendar Show band with my 2 brothers and have been working professionally ever since.

Hus Sali.
Plays, Piano Accordion, Keyboard, Cowbells, Guitar, and Vocals. Learnt to play accordion from the age of seven and first made public appearances from the age of 10. Joined the German Folk dance group in Brisbane where they won several awards and later become Instructor of the group. Formed a high school rock and roll band in 1972 with younger brother Roy and two other members. As a musical career became apparent I left the folkdance group to form the Kalendar German show band with my brothers Peter and Roy, and family friend Herby. As bandleader I was responsible for management and bookings for the band, and has history has shown, since our inception we have been in fulltime professional work since 1978 and have appeared many times on television and in the newspapers in Australia and in Japan. I am a writer full member of the Australasian Performing Right Association and some of my compositions have received radio and television airplay. One of my songs also made it to the final of the South Pacific Song contest.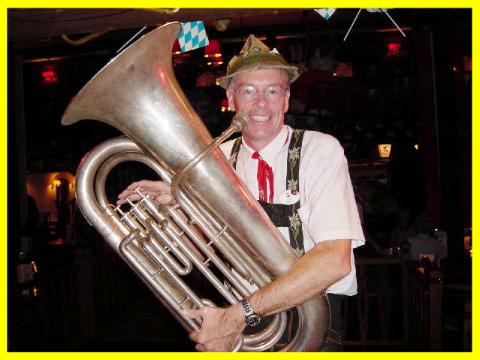 Roy Sali.
Plays Trumpet, Tuba, Swiss Alphorn, Bass Guitar, Lead Guitar, and Vocals. I started learning trumpet at the age of 10, at about the same time joined the German Folkdance group with my older brother Hasan. They one several awards for best dancing group from competition Australia wide. After 7 years of dancing and performing, I left the group to concentrate my focus on German music, which resulted in the formation of "The Kalendar Band". During my schooling years, at the Conservatorium of Music, I studied practical and theory of music in trumpet. I was also a member of our high school rock band, playing bass guitar. After graduating from high school, (1974) I worked at the EMI Record Company, as a sales representative, and left this position when the opportunity arose to work full time in a German restaurant with the Kalendar Band.